I discovered 3-time Emmy Winning San Diego Makeup Artist Cathi Singh not long after getting in touch with one of our favourite ladies on the blog, Melissa Street. Cathi works as a Key Makeup Artist for Melissa Street's company Epic Makeup and is also an amazing advocate of inventing makeup kit organisation hacks, many of which are gaining popularity on social media.
As a young aspiring artist, she endeavoured to contact every makeup artist from San Diego to LA in hopes of finding out more about the profession. Through this determination she met a few mentors and organisation gurus and now freelances for TV, commercial, print and live events. Her versatility and attention to kit organisation and sanitation is inspiring to say the least! I was eager to find out more about her career along with some of her favourite #CathiHacks!
How did you get started in makeup?
My journey with makeup sparked at the age of 11. I was a synchronized swimmer and learned waterproof theater makeup for competitions. We took many liberties with our makeup and had a lot of fun with color! I've always been drawn to bright things, my Mom called me her 'Primary Coloured Child.' While in college studying Photo Journalism (and taking far too many Ceramics courses…), I realized I was gravitating more towards the world of fashion and art. I even created a small t-shirt business aptly called, 'Article of Clothing' once.
Fresh out of school, I began styling music videos for friends, and anyone who would give me a chance. My good friend set me up with a stylist to assist, a first time for me who had never been on a real set before. Our first project together was a 3-day shoot in Palm Springs for Self Magazine with a high profile celebrity. I steamed one garment after another all day long, but could not peel my eyes off of the makeup artist. What she was mixing, how she was using the brush, where she was applying it….I was mesmerized. Only later would I find out that she was the incredible and very talented Fiona Stiles.
I look at that shoot as a pivot in my life, one of those "the right time, right place" moments, thus, the beginning of my career. I came home and told my husband, "I'm in the right industry, just the wrong department." After that I emailed every single makeup artist from San Diego to LA asking about school, assisting and how to get started.
Most didn't answer, except for two – Tricia Sawyer and Melissa Street. With her long list of film accolades, Tricia had just started a makeup school which I eagerly attended, learned sanitization and Beauty 101 and then had the opportunity to intern for her on several film sets, learning set etiquette in real time from a true artist. Melissa and I had a 2 hour phone call where I asked her every question on my 4 page single spaced yellow legal pad (hello, Journalism student). She answered them ALL. Right then I knew there was something special between us and shortly after, she asked me to intern, assist, and now I work as her Key for Epic Makeup. Both of these women are still in my life and I am forever grateful for the time, energy and opportunity they bestowed upon me. There is truly so much to be gained from assisting in this industry.
What are five of your favourite makeup kit hacks?
Toothbrush Holder: This is my solution for those lip gloss brushes that need to be kept separate from your other tools on set. It's perfect for holding your brush and lipstick, gloss, or even concealer. Easy to sanitize and reuse so less disposable waste.
Travel Pill Container: An early morning Walgreens find! This slotted container is a great size for hair elastics, accessories etc. It also comes in different colors if you need to color code.
Travel Cooler Pouch: For extremely hot weather conditions, this canvas bag has a small pouch inside for a reusable ice pack. Slide your favorite lip or cream foundation palette in there to keep it safe and melt free! Small Blush Palettes, Vuessets, and MYO Cosmetics Cases – they all fit nicely.
Hiker Makeup Organizer Caddy: I carry two of these: one in my large set bag and one for my actual setup. This has been the most helpful and space condensing tool, especially when working on a mobile makeup vanity, or when you have several location changes. I fill it, fold it slightly, and take it to the next setup.
…And Cathi's latest hack (you saw it here first!)
Portable LED Camping Lantern: I've never met a makeup artist who said no to more light! Often I work backstage at live events, and lighting is very limited. There are times when my set bag and I are closer to the stage, etc. I also needed a lantern for on location days when I'm out in the elements. Enter the new #CathiHack! I found an aesthetically beautiful, useful, reasonably priced multi-use light. That doesn't need batteries! This USB charged light has three brightness settings, a fully rotating handle so you can place the light directionally where you need, and it twists open to become a full lantern when you need more ambient light. It is warm light, so I would still suggest The Makeup Light for your touch up needs.
How do you deal with setting up your kit in small and inconvenient areas?
Go vertical! While I love a great boxy carrying case, often times we have less than 4 feet of length to set up. I have found by using clear, taller cases, I can see my station, stack easier, and give myself more workspace. The Promakit Six Section Bags have been helpful for this as well. My Hiker Makeup Organizer Caddy holds my disposables, sanitizers, skin prep and Temptu Air, along with stacked palettes. This allows me more work space.
Also, instead of carrying full-size products, I depot into smaller containers and palettes. Qosmedix, Daiso, Muji, and Miniso have been wonderful sources for containers. I do not like to spend a lot of time unpacking and packing. I pack my bags to be completely ready to work out of once unzipped. At most, I need 15-20 minutes.
What is your philosophy on building a good functional makeup kit?
'Comparison is the thief of joy.' Do not go to social media and scramble to match another artist's kit exactly. If anything, ASK the artist WHY they carry that product and WHAT it accomplishes. Or why they have that bag organized that way…you might already have something that does that same thing.
Before I buy anything I ask myself if I can think of 3 ways to use it right now. I find when I do that, I actually put the item to use immediately, and incorporate it with other kit items as well. It helps me "trim the fat" and keep my kit streamlined.
As a freelance artist, I work in a lot of different types of locations, not always in a studio. For that reason, I carry a lot of extra items like mini trashcans, first aid, etc. I do have a giant kit for larger projects, but for the most part, I re-pack and prioritize what is needed for each job. I'm always attempting to downsize, but the Girl Scout in me always wants to bring everything!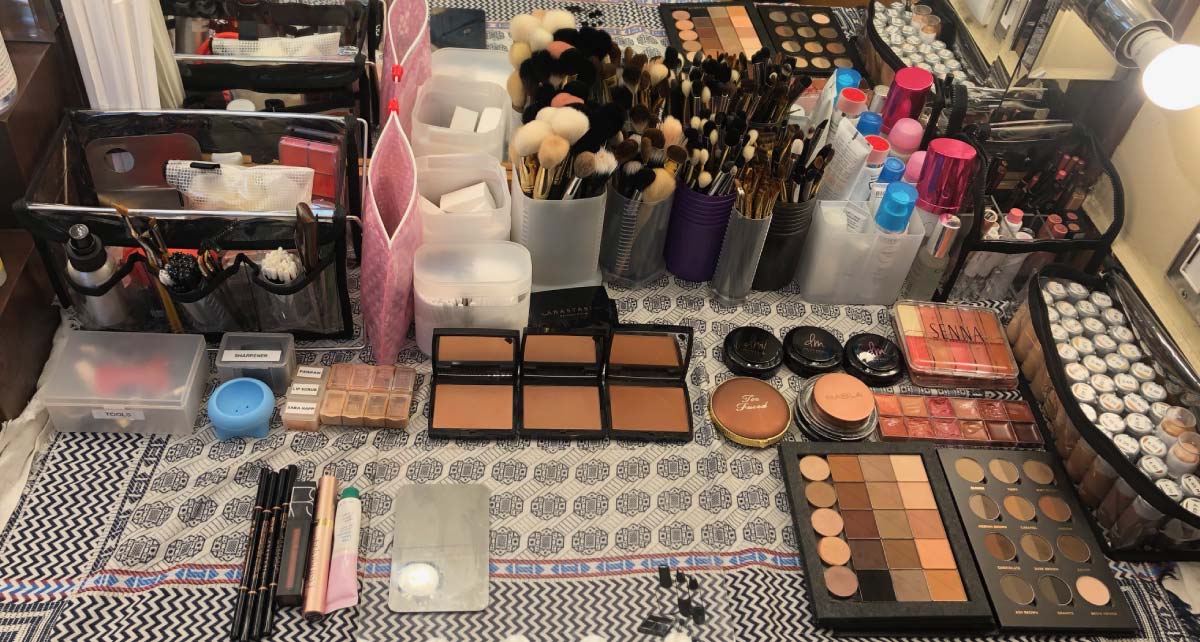 Who inspired you to be so kit-savvy?
What's the best advice you were given starting out, regarding your makeup kit?
Start small and be prepared for anything (and everything). Learn how to use items in your kit for multiple purposes. Thinking on your feet is imperative.
+ Take pictures of your kit as you build it. I still look at my first kit setup and remind myself of where I began.
Your kit tells a story of your career, where you've been and what adventures brought certain items into your life. I still have Tricia Sawyer's brushes in my kit – the very first brush I ever bought. And I treasure it! Also remember, someone is ALWAYS watching you on-set, so make sure your kit is CLEAN!
If you aren't already, be sure to follow Cathi on Facebook and Instagram to catch her delectable #cathihack videos.
That's all she wrote,
Lexi